This is about Granny Jennie's mother Mary Jane, who dominated the Illinois prairie around her in the late 1800s but may have longed for a trip to … Switzerland?
My great-grandmother, Mary Jane Robertson, always wanted to go to Switzerland, or so I imagine. So she painted this fantastic landscape with a crooked chalet and mountains that look like upside-down ice cream cones. Clearly she had never seen real mountains. Granny Jennie, my grandmother, hung it over her sofa. Now it's in my living room. I really like the folk art flavor.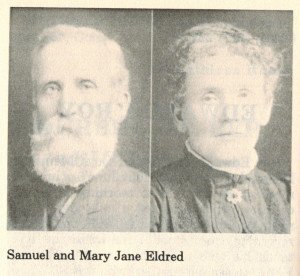 Mary Jane was born in 1850. She was living in Jacksonville, Illinois, when she met her husband, my great-grandfather, Samuel Eldred. She came from a well-to-do family and graduated from college in 1872.
He came a-courting, a young farmer who had just homesteaded a large piece of land, himself son of a bank president (in Carrollton, some distance away). She told him no log cabins. He had to build her a very large and wonderful house on that farm before she would agree to come and live on it. So he did. Pretty soon they had three children. The youngest was Jennie. Jennie was small and slight, at 5 feet 2, and her mother was similar.
Mary Jane crusaded for Prohibition because she was concerned for the welfare of the tenant families on their farm. And she was very interested in health foods made by the W.K. Kellogg Company in Battle Creek, Michigan. A formidable woman. Mild-mannered Jennie was no match for her, I expect.
I don't know that much about the personality of Samuel Eldred, born in 1848 in a log cabin in Carrollton, Illinois (a time when everyone lived in log cabins there). But I do have the desk where he sat to manage his big farm in that farmhouse in Montgomery County. And I do know that he moved his family back to Carrollton eventually and took up the presidency of the family bank there, leaving a son to run the big farm.
We're talking about heirlooms here, so let me mention my inlaid mantel clock. Granny Jennie and her brother John each had one, a fancy item for the time, made in Germany. This one is dated 1913, the year before Jennie got married. Did Mary Jane order them for wedding gifts for her kids?  Jennie's has come down to me, and John's to his grandson.